11 March 2008
During some late summer cruises I noticed a reluctancy and unreliability of my convertible hydraluic oil pump. Had sometimes to give it a light tap with a screwdriver or similar to get it to operate. I decided to disassemble it and see what the reason could be. Suspected the collector brushes to be faulty. See the photos of the operation below.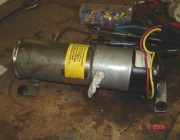 The pump assembly of my Caddy was a replacement unit and was in rather good overall standard except the need for tapping to get it running.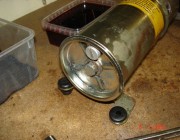 I removed the unit from the boot and taking care not to spill any hydraulic fluid inside the car. Put in a lot of rags and paper towels to protect. When on the workbench I drained the oil and started to disassemble.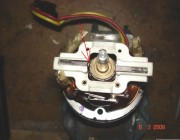 ...one of the brushes was in fact too short and wouldn´t allow the brush to reach the collector. See the arrow. If I just bent the main elcable that´s connected to the brush it could freely move and come into contact with the collector.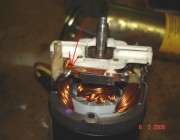 When assembling the collector cover back on the motor be VERY careful to mount it correctly the brush holder needs to align with the position in the cover and also the screw holes needs to be aligned.